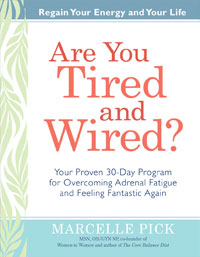 It's Wednesday. I'm tired. Are you? I've been given the gift of a second chance. This time I'm going to learn from my mistakes and not over do it so that my illness doesn't become life-threatening.
Will you do the same or will you work yourself to the grave?
This is a harsh post, but one I hope you will take to heart. If you haven't already done so, take my Get More by Doing Less Challenge. And if you have completed it, "Congratulations." If you're still in the process, keep going.
I received an email in my inbox today and was surprised and delighted by it. Hay House sent me information about a book called Are You Tired and Wired? It's about the fatigue women feel and how it can be related to adrenal dysfunction (something I have).
They sent me a free pdf of the first chapter. And I wanted to share it with you. Read it and maybe it will save your life. Maybe it will convince you to stop overworking yourself, putting everyone else's needs before your own. Maybe, just maybe you will get the wake up call you need. That's my hope for you.