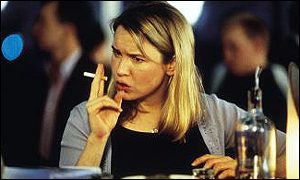 {photo}
Do you remember Bridget Jones's Diary?
"Alcohol Units 6, Cigarettes 45, Husbands 0."
This current attempt was inspired by the movie. But instead of dropping the alcohol, smokes and poundage, I'm on a path to inspire myself.
How?
By living a healthier, simpler, more meaningful life. Not as easy to calculate this one. But I'm going to try.
In addition to cutting sugar from my diet and eating more like my 5 year old rabbit, I'm also going to journal, do tai chi and meditate. Did I mention I'm going to try to do this daily?
As I write this I can feel myself hyperventilate. It's not a small task. But a must if I'm going to heal myself and change my life.
I know we're already 7 months into 2011, but everyone deserves a second chance. And no one needs it more than I. So much regret I have for nights I spent "drinking like a fish" as my cousin once described it. And scarfing down enough Ben & Jerry's and slurpees to keep a classroom of kids hyper and jittery for a whole school year.
So I'm going to do it.
Anyone else want to join me?
It's day #1 for me, but I've already cheated and started the program. So far, I'm realizing that before bed tai chi and evening meditation are both helping me to sleep. It's getting myself to do it that's hard.
So far I've already found ways to cheat.
Here's your CliffsNotes cheat sheet. You know how they say, "hiking is just walking?" Well meditating is just sitting. And if sitting is too boring, lying in bed and visualizing a happy ending story to your life with your husband counts too. Be creative and the process could be a whole lot more fun.
*If you want to be part of the support group to meditate and write more, comment below. Lurkers and meditation wannabes welcome.