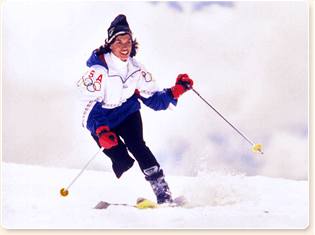 When I first saw Bonnie St. John in the documentary Following Dreams" her story moved me to tears.  A best-selling author, mother and inspirational speaker Bonnie has met every challenge given to her with grace, courage and determination.  She is a hero to many (including me).  Bonnie definitely walks the walk, proving by her strength and ability to rise above abuse, divorce and disability that anyone can live joyfully and attain the life of their dreams.  From a little girl with big dreams to an Olympic silver and bronze medalist, author and motivational speaker, her life inspires others to live joyfully.  This is why I am beyond thrilled to have her featured as a Successful Dreamer.  Read on to be inspired.
1) You're living proof that anyone can transform their life, no matter what their circumstances.  Can you tell us a little bit about how you got through one of the hardest times in your life and how it has helped shape you into the woman you are today?
I gotta be honest. I STILL get upset, scared, and negative when I go through a tough time.  You would think after everything I have been through that I am always calm and never ruffled.  I wish it were so.
Yes, I still get upset when the economy is down, when there's pain in my close family relationships, or when I have to find a new health insurance plan in NJ.  What I can claim, though, is being good at pulling myself back up again after I fall down.
What do I do? I pray.  I talk with friends.  I exercise and get advice from experts and coaches. In short, I make the effort to reach for the positive.  It isn't that I am never negative.  It's just that I don't choose to stay there.
2) Everything about you radiates joy.  It's hard to believe that you are not always that way.  What tips/tricks do you use to stay positive and choose joy even during the darkest days?