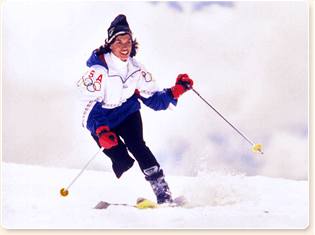 When I first saw Bonnie St. John in the documentary Following Dreams" her story moved me to tears.  A best-selling author, mother and inspirational speaker Bonnie has met every challenge given to her with grace, courage and determination.  She is a hero to many (including me).  Bonnie definitely walks the walk, proving by her strength and ability to rise above abuse, divorce and disability that anyone can live joyfully and attain the life of their dreams.  From a little girl with big dreams to an Olympic silver and bronze medalist, author and motivational speaker, her life inspires others to live joyfully.  This is why I am beyond thrilled to have her featured as a Successful Dreamer.  Read on to be inspired.
1) You're living proof that anyone can transform their life, no matter what their circumstances.  Can you tell us a little bit about how you got through one of the hardest times in your life and how it has helped shape you into the woman you are today?
I gotta be honest. I STILL get upset, scared, and negative when I go through a tough time.  You would think after everything I have been through that I am always calm and never ruffled.  I wish it were so.
Yes, I still get upset when the economy is down, when there's pain in my close family relationships, or when I have to find a new health insurance plan in NJ.  What I can claim, though, is being good at pulling myself back up again after I fall down.
What do I do? I pray.  I talk with friends.  I exercise and get advice from experts and coaches. In short, I make the effort to reach for the positive.  It isn't that I am never negative.  It's just that I don't choose to stay there.
2) Everything about you radiates joy.  It's hard to believe that you are not always that way.  What tips/tricks do you use to stay positive and choose joy even during the darkest days?

In "Live Your Joy" I talked about my "To feel" list.  One day I realized that despite everything I did to make my life better, I wasn't feeling it.  I made long to-do lists and stayed very busy–so much I exhausted myself.  One day I looked at my to-do list and thought, "What if I put TO FEEL items on my list?"  So in the midst of my busy day I had reminders to smell the pine trees, go out and feel the sunshine, or call a friend.  Being too busy is the number one enemy of feeling joy.
Problems grab us by the throat and make time on our schedule, but joy disappears without a whimper.  Carving out a little time everyday to slow down and really FEEL joy is important.  It isn't the same as watching TV, shopping, or surfing the net….those are ways to relax but [in those cases, you don't] really feel anything.
Plan your day so that you can stop and feel gratitude, beauty, nature, and God.
3) Who are your heroes?
I have so many heroes!  One of the great things about motivating other people is that they constantly share inspiring stories with me!
I am so impressed with the people I meet at speeches and book signings.  Anyone who really cares about their job and does it well is heroic.  I heard about employees of Starbucks who went back into the headquarters buildings after an earthquake with hard hats and flashlights to get payroll out for employees across the country.  They knew people needed their checks to pay for groceries and rent so they did whatever they could despite sprinkler damage, collapsed walls, and more.  No one really appreciates the work that goes into making sure everyone gets their paychecks on time.  It may not be an earthquake—but even computer problems, weather, etc can be challenges.
Getting out paychecks is just one example, but I have spoken for the pharmacists who go the extra mile to keep all their diabetic patients on track, the administrators who run medical offices, and the financial aid advisors from colleges that go to poor neighborhoods and convince people to aim for college with their help.   I could go on for hours…so many people doing their jobs with passion make this country better every day.
Then there is the passion and heroism in what we do for our families, kids, loved ones, and communities.  I believe that every person has done something amazing-if you take the time to ask, you truly get inspired.
Try this: ask someone if they could award themselves an Olympic medal for one thing in their lives, what would it be?  I would love to here your answer.  Email me at bonnie@bonniestjohn.com.
4) What advice can you give others who are struggling to follow their own dreams?
In "Live Your Joy" I write about having a "Portfolio of Dreams."  Just like you wouldn't want to put all your money into one investment, don't put all your hopes and dreams into one life option.  While I was training for ski racing, I also worked hard in school to get a college scholarship. Later, while I was working in sales at IBM, I also put together a proposal for my first book and applied for a job in the White House.  I got the job in the White House and held on to the book proposal until after I left Washington.
Bottom line: I always have several opportunities that I am developing.
As the world becomes more fast-paced and global, it is more important than ever to make sure you have options and are flexible. So follow your dreams, but have a portfolio of dreams!
5) Divorce, abuse, and disability.  Any one of those alone would be difficult to deal with. Where do you think your strength comes from?
These days, I know that my strength comes from God.  But I also know it isn't enough just to pray and ask God to solve all the problems in the world.  We need to become the solution we are praying for!
I also believe that joy is a gift—it is our birthright.  But we still need to cultivate the habits, attitudes, and beliefs that nurture joy instead of blocking joy.  One of the things I learned from writing "How Strong Women Pray" was to pray for the strength, integrity, courage, and wisdom to bring joy into the world instead of trying to get it from the world.  Be the joy.
Some people think that they will be more joyful when the economy gets better, when they find the right relationship, or when something else outside themselves happens.  But the reverse is true:  Find the joy in your life—in the littlest things—and that will give you the strength to improve your job, your relationships, and your world!
My conversation with Bonnie continues.  Stay tuned for Part II!