I decided it was about time to spruce up our place. So I added a few super easy DIY decorations. Although I so admire this blogger for really getting into this year.
And while I'm not entirely done yet. Still have a few more Christmasy things to decorate. I thought I'd share a collage of what I've been up to.
This year we're forgoing the Christmas tree – too much eco-friendly controversy. And just gathering together supplies we already have at home (except for the foam and silver pipe cleaners). I still have a few holiday decorations I want to DIM (Do it Myself). But truthfully, I got hit with the flu this week and I'm still recovering. Btw, it's what I should be doing now instead of blogging…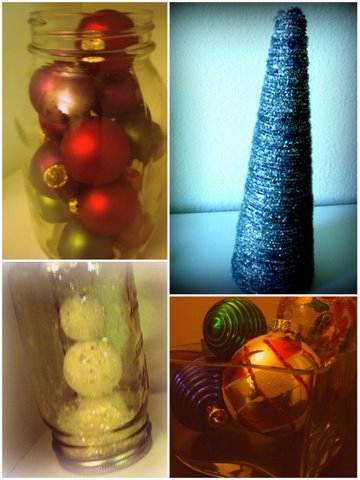 *From top left to right:
1. Mason jar + Target ornaments   2. Michael's tree-shaped foam and silver pipe cleaners. I just wrapped them around the foam poking a hole in the beginning and the end of the pipe cleaner to keep it together. 3. Mason jar + foam balls + floral wire + confetti from this project. 4. Heart-shaped vase with Christmas ornaments.