The Happiest Giveaway Ever on The Inspiring Bee
I've said it before and I'll say it again. There's nothing like a good book to lift me out of whatever deep dark well I've fallen in. As a child, books like Charlie and the Chocolate Factory and A Wrinkle in Time took me out of the doldrums of long public school days and lonely only child nights. I spent half of my childhood and adolescence at the library. And that's the truth.
As an adult, biographies, self-help and a few fiction books such as Still Alice inspires me. It returns the childhood magic that I lost along the way with Santa Claus, tooth fairies and possibility. I thrive in the powerful words of a good book. And am thoroughly grateful when a book like this one falls into my lap*.
Happiness from a Book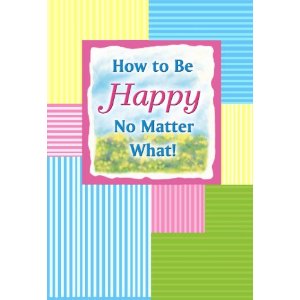 How to Be Happy No Matter What! published by Blue Mountain Arts and edited by Sarah Nagel (who guest blogged for me here) is a compilation of hopeful quotes, antidotes and words of wisdom from people like Montel Williams, Gretchen Rubin, William Blake and Queen Latifah. While scanning through the list of contributing celebrities, I was both impressed and fascinated by the inspiration that came from them. What an amazing conversation they would have and would I love to be a fly on that wall!
This 60-page book is sweetly designed and is what you would expect from the company who creates beautiful, thoughtful, handmade looking calendars, books, and greeting cards. But there's something deeper than one an old college friend of mine would call "fluffy" or "flowery" work. In sections like, "Savor the Present Moment, " "Practice Gratitude," and "Slow Down and Relax," there are mini lessons not just on how to be happy, but how to live a more meaningful life. These themes hit home for me since they discuss the topics that I'm most passionate about and that I try to share on this blog.
I think if you're the type of person who is trying to live your life with more meaning or you're trying to be more positive, if you're looking for ways to inspire yourself, this will feel like the supportive friend you need. While you're getting over the disappointments over the holidays, the fatigue you feel from the chaos, the emotional drain you feel from too much drama, you'll feel comforted in encouraging words like these:
"Don't ever lose sight of the gift that is you. Remember what you're made of. Remember what's flowing in your veins. Remember what you were given, and remember what you went out and created on your own. Like any great masterpiece, you're not done yet. Inside you is the best of everyone who has come before you – and the best of everyone yet to be. You can forget some of what life hands you, but never, ever forget who you are…You are a gift to the world!" – Rachel Snyder
A Gift for You
Doesn't that feel like coming home? To me, it feels like the gift that everyone deserves to hear. It will be the book I read when I'm faced with another writer rejection, when I'm confused about which direction to go, when I'm feeling uninspired and need inspiration.
It excites me just to share this book with you, but Sarah generously sent an additional book to giveaway too. This book is filled with the kind of optimism, hope and motivation that I believe are vital to your journey to follow your dreams. It's a great fit for The Inspiring Bee readers. If you would like to enter to win this book, just leave a comment below with who or what inspires you or tweet this post. I'll be randomizing everyone who enters until the contest ends on Friday 1/13. Good luck!
*I received two free copies of this book in exchange for an honest review and a happy book giveaway.