When I'm stuck in a rut, when I'm feeling like my chips are down, the one thing that lifts me up better than an ice-cream cone on a sweltering hot day is soaking up the light from other inspiring businesses.
This past week I heard of two that really got me going and I wanted to share their stories with you here.
Teen Beats Sharks
I first heard about Maggie Bradshaw on Shark Tank. (One of my favorite mindless reality TV shows.) Even if you haven't seen it before, the title really says it all. People looking for investors to fund their latest invention give a brief presentation to a financially wealthy panel (the sharks) and get ready for them to swarm. It's a fun show to watch. But this time I was more afraid for Maggie and her younger 12-year old sister.
Not only did Maggie do better than most participants in the show, but all 5 of the sharks wanted to invest in her company. She was assertive, determined and more knowledgeable about business and profit margins that I was at that age. She held her ground, negotiated, didn't show an once of fear and ended up getting 3 sharks to invest in her million dollar company. Maggie's just 16. And her company? Necklaces made out of used bottle caps. Genius! You can find out more about m3 girl designs here.
A Truly Inspiring Bee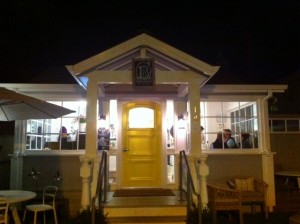 I haven't met Bumble owner Mary Heffernan except seeing her in passing as I left her charming restaurant/play cafe, but she still inspires me. As soon as I walked into the cottage that housed her dreams, I was smitten. What I most admire about Heffernan is her out of the box thinking. She created a business out of what she felt was a need-a place where adults could enjoy eating out again with their kids. The cottage is beautifully and glamorously decorated so much so that I didn't even realize it was a place parents bring their kids until I looked through the aquarium and saw children looking back at us from the next room. What a brilliant idea! Not only that but the items on her menu are organic and locally sourced. And I'm a big lover of details so I couldn't help but adore the tiles in the bathroom shaped like what else? Honeycombs.
These are just a few business and I'm sure you have your own list of people and companies that make you want to be and do better in your own life. Who are they and what is about them that inspire you?
I'm signing off with one more bit of inspiration. George Lucas recently sat down to talk with Oprah on OWN and I had to jot down what he said about passion. Here it is:
"You sit down to do something at 7 o'clock in the morning and you get hungry and you realize it's 7 o'clock at night. That's your passion. That's what you love. Find something like that, that you can make your career…The idea of making money. The idea of being famous. The idea of becoming powerful in essence is meaningless. It's only that you're happy and you're only going to be happy doing what you love."