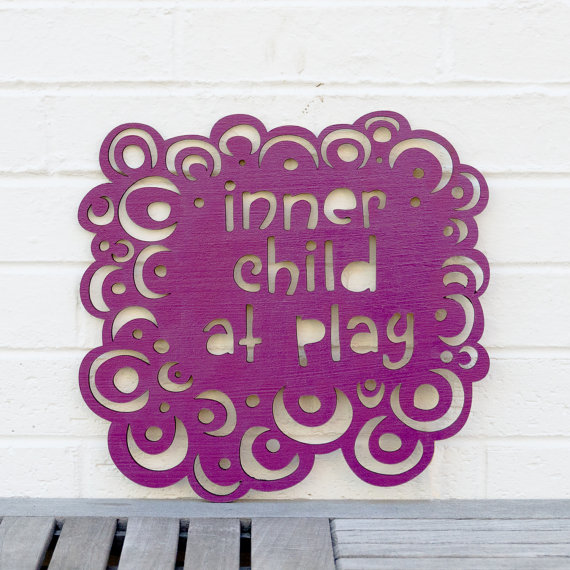 Many people get caught up with words like, "progress," "certainty," and "maturity." They worry when they don't know what they want to be when they grow up. They beat themselves up when two steps forward leads to one step back. They are self-critical and ashamed when they are "acting immature."
But it's all part of the process. According to Care of the Soul author Thomas Moore, it's neglecting the complexities of our inner child (the part of us that is playful, creative and spontaneous) that hurts us most. He says progress and growth are prioritized in our society, but they are not always necessary or relevant. Sometimes in order to grow or heal we need to take a step back. Sometimes in order to know what we want, we need to honor the child. To go forward, it's imperative that we look back. He believes that taking care of your soul requires that you accept, nurture and pay attention to all aspects of yourself. And in fact, ignoring or attempting to deny your childhood desires, your inner joy, spontaneity, and your creativity can cause significant suffering.
Who you are right at this moment is a conglomeration of who you were, who you are and who you are about to become. To neglect any part of your soul in disgust, distaste or disdain will work against you. It's like a critical and demanding parent who controls you into being the person they want you to be. You will never know your true purpose or calling if you continue on that path. The only way to awaken the part of you that asks the following:
Who am I?
What do I really want in life?
What do I want to be when I grow up?
…is to listen.
This means prioritizing play in your life. Respect the time you devote to reading, playing, creating and protect it as well as you protect time spent working. Embrace your inner child's wants without judgment, criticism and reprimand. You've had enough of that in your life and that's the reason why you are where you are in this moment. I'm afraid the only way you can free yourself from the hold of a stifling past is to release your fears and finally respond to the part of you that you've been hiding for so long.
It's a frightening, but worthy cause.
For today, let yourself be immature,
open your eyes to life as if you've never explored it before,
and be okay, just for this moment, with not knowing what's through that unopened door…