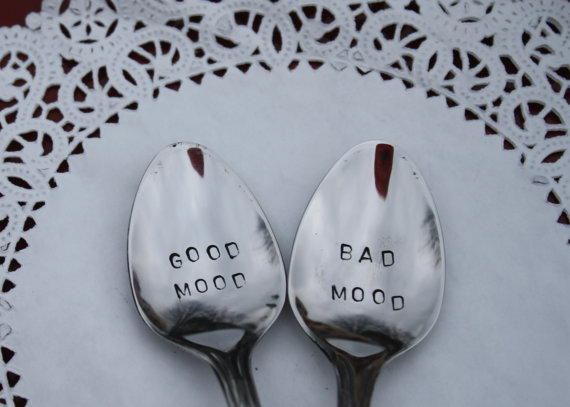 Some bad moods come and go like dark clouds on a wishy washy weather day. Other moods linger like negative friends, draining your sunshine.
Since I've had a few of the latter ones lately, I thought I'd share with you a few tricks I've learned (and continue to learn) to shake off the doldrums. Whether you're suffering through a bad day, a bad week or just a bad moment, these tips should temporarily lift those gray clouds and bring you some much needed relief.
1. Practice the art of healthy distraction.
When suffering, some of us numb through food, drugs, video games, etc. Those temporarily aids often end up being destructive. Not only do they teach you to avoid your problems, but it also makes you rely on unhealthy ways to self-soothe. But distraction is not necessarily a bad thing. Sometimes to get out of a funk, you need to change your energy, your environment, your state of mind. Try engaging in an activity that requires your full attention. Swimming, hiking, tai chi and yoga do it for me. It refocuses my mind on the present moment and releases me from any problem burdening me.
2. Practice the art of letting go.
Stress can wreak havoc on a person's mind, body and soul. When you already deal with illness on a daily basis, any extra stress will compromise your health. And that's one way to worsen a bad mood-make it permanent. Instead learning how to let go of insignificant worries will go a great deal to shift your overall mood. How do you do it? Imagine every single problem you have right now as a balloon or leaves in a stream and visualize them drifting away. You don't need to control everything. Even if you tried, you couldn't anyway. Let things be as they are supposed to be.
3. Practice the art of patience.
These last few weeks I have been agitated because I'm impatient. I'd like to move sooner. I'd like to be healthier right now. I'd like to know what I don't know. I'd like everything I ever wanted to be done in this moment. When I get like this, I'm reminded of a 2-year-old child. It's normal to want everything right away, but obviously life doesn't happen this way. If you're in the creative process, for example, you may become frustrated that you're not where you want to be. Or you may be an impatient bee like me and want everything to happen right now. How do we get through it? Practice. When the 2-year-old in me screams, "I want it now!" I respond with the following: "Life unravels in divine order." I heard a similar phrase by Deepak Chopra and while it seems like a silly practice, it works. It reminds me that everything has happened in my life when it should. In order for life to continue to work this way, I need to stand out of the way.
4. Practice the art of present-mindedness.
Sometimes all it takes to get me out of the chaos in my head is breathe. Breathe calm in and stress out. It could be 15-minutes of meditation or just a simple reminder to take a deep breath. When I take the time to do that, I remember that nothing is as important as this moment.
5. Practice the art of self-indulgence.
Remember when you were college and had to pull occasional all-nighters? There was gold at the end of that rainbow. Even though there would be weeks when you would be head in a book, had no social life, and smelled like a rat, eventually life would return to normal. You knew you could get over that hurdle because the end was coming. Why not create an artificial end by practicing the art of self-indulgence? Set up a special day to look forward to in between work stress, test stress or any daily stress. Make a date with your friend, your spouse, or do something on your own. Having that gold to look forward to will make whatever storm you're currently in seem much more tolerable.
What draws you out from an Eeyore to a Tigger? Is it deep breathing, surfing, playing with your kids/furry kids?