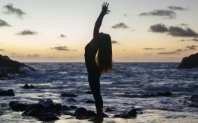 People who pursue their passion inspire me. With their courage, determination and faith, they're blazing the trail for other dreamers to follow their dreams.
In the past, I've had the opportunity to interview a celebrity designer, successful author, Olympic medalist, and my favorite design bloggers.
Today, I'm featuring someone who I've admired for a long time. Amanda Webster is a yoga teacher and co-owner of Yoga Adventures Hawaii in Kailua, a business that offers yoga workshops and retreats. As a student in several of her classes,  I know she lives by what she teaches and I'm honored to have her here sharing her wisdom and path she took to follow her dreams.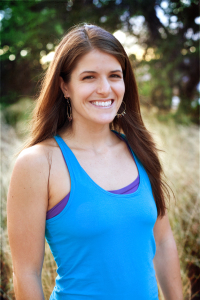 Please describe what you do.
I teach heart-centered yoga classes, workshops and private sessions that range from upbeat to serious, restorative to powerful, and everything-in-between. I believe yoga helps us to identify the intentions, habits, and limiting beliefs about ourselves and others, and to recognize the value of consistent self-inquiry, growth, and expansion of universal awareness both on the mat and off. My strength as a teacher is building community and meeting people where they are by teaching from the idea of "vinyasa krama," the breakdown of yoga into manageable steps to explore the gradual unfolding of the self in a way that reflects the intelligent unfolding of nature's inherent rhythm. This is an awareness that benefits you off of the mat, too, which is where the real power of yoga exists.
I am also fortunate to co-host yoga retreats with my business partner Michael Graney. We make a great team, inspiring people to expand their boundaries and constricting beliefs, and to recognize how yoga can improve their welfare beyond the yoga mat!
Can you describe the journey that led you to where you are today?
I always felt a quiet pull towards yoga, but growing up in the Midwest, yoga was something that was just catching on in the celebrity realm. In college I ended up switching majors from pre-medicine to community health to behavioral psychology, eventually working as a behavioral therapist and case manager for autistic children. In 2008, after moving to Hawaii from Los Angeles and giving birth to my oldest son, I took my first class at the Windward YMCA and IMMEDIATELY knew yoga was "my thing."
As an introvert, I hated speaking in front of people, though I recognized that this work would require me to make many essential shifts that could only make my life and relationships better. I often joke that diving deep into the yoga practice is like jumping into a rabbit hole, meaning it is exhilarating and terrifying at the same time and once you jump there is no turning back! For me, as a student and teacher of yoga, that exploration is the journey….
What was the greatest obstacle/challenge that you had to overcome to get to where you are?
The most challenging part of this work, both past-tense and currently, is finding a balance between the finances/marketing side of yoga as a business and the philosophical components of yoga. This includes marketing events without feeling like a salesperson and earning enough money to make ends meet while allowing yoga to be accessible and affordable to your clients…all while upholding the heart of yoga as a non-dogmatic practice characterized by self-inquiry and unity through adherence to the eight limbs of yoga.
It's like this: Yoga students often see great value in their practices and have much appreciation for their teachers. An amazing yoga experience is like the satisfaction you feel after eating a delicious, well-prepared 5-star meal. However, students would prefer to only pay fast-food prices for that meal, they only want consider the final product. For teachers, often the work is the reward, but we cannot sustain the 5-star quality on a fast food budget. Many of us who teach yoga as a living are like the fast-food employees making minimum wage and struggling to cover basic living expenses; we need to be paid for the work that goes into preparation in addition to the final product.
Basically, if yoga (or anything) is such an important component of your life, the amount of resources you devote to the development of your practice should proportionally reflect the value it has on your life. It feels taboo to even approach this subject, but there are some really inspirational people in the wellness industry beginning to intelligently bridge that gap. I'm still working on it!
What do you love most about you're doing?
When we establish a practice (such as yoga) that routinely brings us to the state of connectivity through quiet mind, we see, speak, act and relate with more awareness, intention and love…experiencing this huge shift as an individual and developing a community as people practice together, THAT is why I love what I am doing.