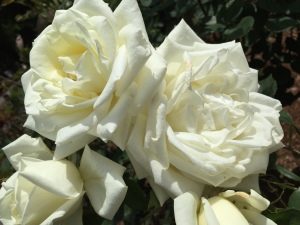 At one point in your existence, you're going to want more. The life you've been living will feel uncomfortable like a scratchy sweater, like a cold tiled floor in the winter. It will make you toss and turn at night, make you wake in a cold sweat. It will turn you into the miserable uncle you once despised.
Or perhaps, you've already lived this way for the past several years and life is now throwing stones at you for your attention. It's the illness you were diagnosed with or the job you were laid off from. These are signs people! These are signs that you need to wake up. Life is not giving you a could shoulder, it's desperately trying to get you back on track.
Where are you stagnant in your life?
What are you settling for that you shouldn't be?
What have you outgrown but are too afraid to let go of?
Perhaps a trip, a reconnection with an old friend or an inspiring movie has triggered this change of heart.
I hope you'll use it as fuel to begin living your dreams!
I just started reading Carrying On, Warrior: The Power of Embracing Your Messy, Beautiful Life by Glennon Doyle Melton. I could almost quote everything she says in her book. Everything is so spot on and inspiring:
Here's my hunch: nobody's secure, and nobody feels like she completely belongs. Those insecurities are just job hazards of being human. But some people dance anyway, and those people have more fun."
I'm admittedly one of those people who feels full of insecurities, like the world is super cool and I'm one giant dork. But I'm starting to get okay with that. I'm starting to reach in and look for something more grounding, deeper and more meaningful.
This month, I'm finally facing one of my fears-public speaking. Join me and watch me be all red-faced and awkward but speak anyway at Moms in Hawaii and HMSA's next Mom-O-Rama event.