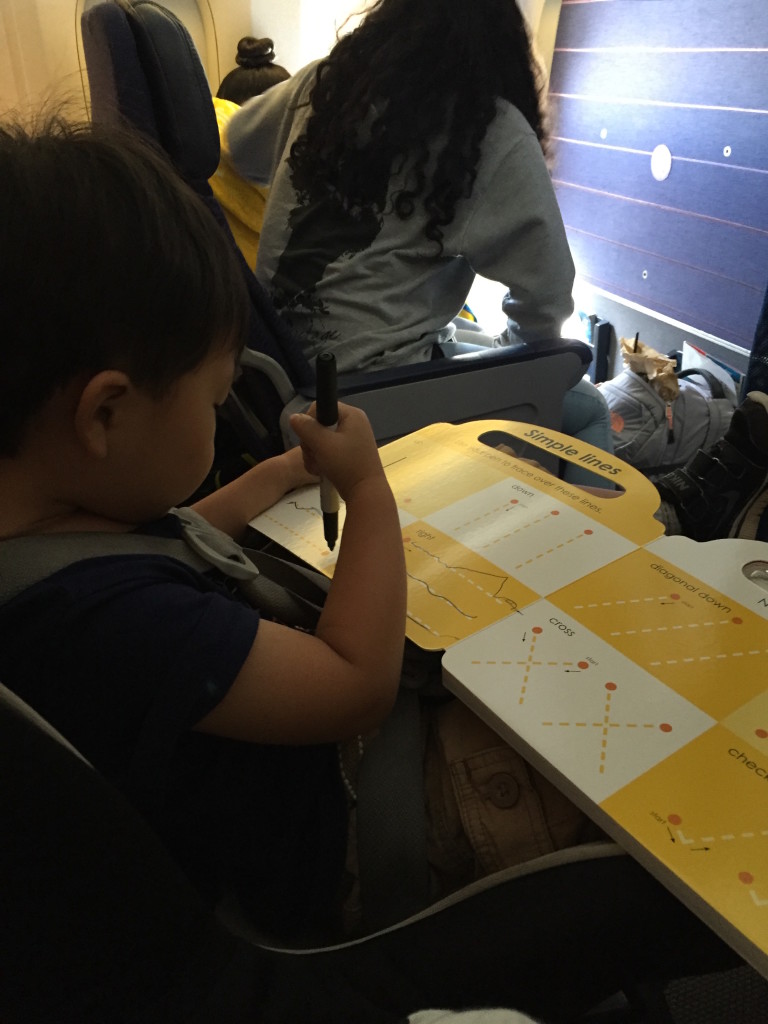 I'm fresh off of my ten day trip and wanted to share what helped ease the pain of traveling with two babies.
I scoured the internet for weeks before my vacation. I found information on air travel with a toddler and air travel with an infant, but none for both. Maybe because many parents would rather avoid traveling until their babies are older. But I'm glad I took a risk. It turned out way less scary than I imagined.
Prepping + low expectations + luck = pretty painless trip
While I'm no way close to being an expert, I did learn a few things that may help you tote your tots:
Read Busy Toddler Happy Mom's Traveling with Toddlers by Gayle Jervis and Kristen Jervis Cacka. This short travel book packs a punch. Mine is full of tabs and so valuable I packed in our already packed luggage. It's not only helpful for traveling, but for those rare times when you go out to eat.
Make "surprise" eggs. I don't know about you, but my toddler loves watching those surprise eggs videos on youtube. I tried to mimic the action by filling eggs with things like play dough, capsules that turn into animals when you drop them in water, and jelly rings that light up. While I had to keep my 9-month old away from the tiny toys, he was pretty excited with the plastic eggs themselves.
Pack new novelty books. Scratch n' sniff books were a hit with my baby, toddler and me too.
Wipeable workbooks. Who knew workbooks could be fun? The dry erase workbook that helps toddlers trace and draw was a lifesaver keeping my three-year-old busy for about an hour.
Bring on the carseat. This is a secret tip shared by my flight attendant cousin. I believe it was the biggest reason for the ease of this trip compared with the hell ride we went on a few months earlier. He was so comfortable, he even fell asleep.
Toddler safe scissors. Since I never gave my three-year-old scissors before, he was fascinated with using them to cut play dough.
Build a fun bag. I read about how others mom created play kits out of makeup bags. Genius! Now why didn't I think of that? Basically you fill these clear folders or binder pencil cases with things like antibacterial wipes, new toys, books, and snacks. This saved me a huge amount of time since it eliminated the need to dig through my carryon.
BYOT(rash)B(ag). A flight attendant complimented me on this, but I have to give credit to one of the moms who wrote about it. The benefit of toting a trash bag? I didn't have to wait for an attendant to take our cups, napkins, and everything else overflowing the seat pockets.
Bring snacks they both can eat. Cheerios were a popular treat for both my kids.
Dress your infant in socks. This is great for babies that are walking, standing or cruising. You can plop them on the ground and not worry about their feet getting dirty. Their hands? That's another story.
Bonus tips:
*Let them play on your phone or tablet. If all else fails, save those really tantalizing age appropriate iPad games for the trip. It'll give you a little time to either entertain the baby, read (I actually got to do this!) or rest.
*Prep them beforehand. For weeks before our trip, my toddler and I practiced our airplane voice. I told him that we had to be quiet on the airplane, other people would be on there and if he's too loud he might get scolded by the flight attendant. Your child may not need a little warning, but doing so seemed to help mine.