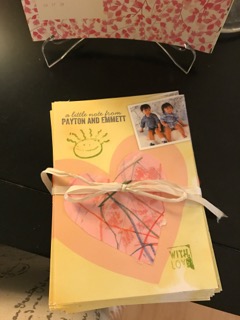 I don't know about you, but I've been at war with my son's art. It was becoming an insurmountable pile of daily school drawings. Hating to discard it, I've come up with one creative way to reuse it.
In three words-homemade greeting cards.
Since Valentine's was around the corner, I thought it was a simple way to incorporate my son's drawings. Also, it would prevent me from having to buy cards that would end up in the trash.
I just happened to have the free (sort of since I had to pay for shipping) personalized notecards I got from Shutterfly. Then, I cut hearts from the paper and glued them on. Stamps and some washi tape finished it off.
Each card was slightly different and all were imperfect. I think in the end they made great cards for 3-year-olds.