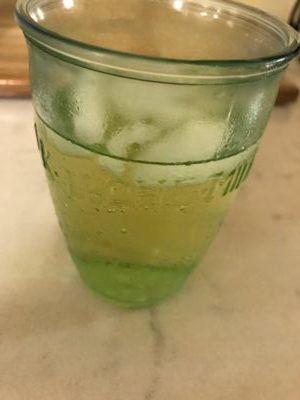 A few days ago, I ordered a drink from one of my favorite restaurants on Oahu called Up Roll Cafe. While I had my regular salad bowl that tastes like sushi, I also ordered a "healthy soda." The owner there said it had vinegar in it. When I tried it, I was impressed and thought I could replicate the recipe at home. Maybe even making it less sweet.
Although this isn't something I would have every day, it makes a refreshing alternative especially if you are trying to wean off of regular soda, which is drowning in sugar and chemicals.
This recipe is pretty simple.
You just need carbonated water, apple cider vinegar and sweetener. I used the Skinny mango flavored syrup and chopped up a few leaves of mint, but if you want to get healthier squeeze lemon or lime and add a drizzle of honey or bit of stevia.
Apple cider vinegar has been touted to help with everything from blood pressure, weight loss, digestion and blood sugar.The vinegar cuts the sweetness of the syrup so it's tart. For anyone who grew up eating li hing mui, it sort of reminds me of that balance between sweet and sour.
I haven't drank soda since I made it one of my New Year's Resolution over a decade ago. I'm grateful I found a way to drink it that's not just palatable, but delicious.