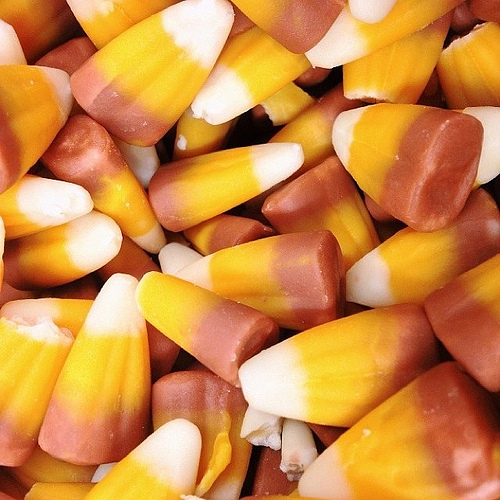 MINDFUL EATING TRICKS TO MINDFULLY TREAT!
guest post by: Susan Albers, Psy.D.
Use the word, "treat" not candy and put it an opaque jar so you don't see it. A recent study in the 2015 journal of appetite found that children of a lower BMI associated holidays with specific foods.  They hypothesized that children with parents of leaner kids teach them that certain foods are reserved or special to holidays.  Words shape our behavior. So, using the word "treat" can help you see it as something special to be eaten mindfully rather than an ordinary piece of candy.
Eat yogurt. A study in the Nutrition Journal 2014 found that yogurt is key for Halloween!  Participants in this study had a snack of either yogurt, chocolate or crackers.  Those who ate the yogurt were less hungry in the afternoon than those who ate chocolate.  Also, those who ate the yogurt decided to start eating again 30 minutes later than those who ate the chocolate and 20 minutes past those who ate the crackers.  Overall, at the next meal, the yogurt snackers ate 100 calories less than those who ate chocolate or crackers.
Think of your pets. Many pet owners have made the decision to keep minimal candy around on Halloween.  It's toxic to pets and can even lead to death. Chocolate contains methylxanthines, chemicals similar to caffeine that can quickly sicken dogs. Veterinarians report an increase in emergency room visits near Halloween because their furry friends got into their stash.  It's a good reason to keep candy to a minimum and out of reach of you and your pets.
Inoculate yourself. Psychological theory indicates that restraining your chocolate and candy intake before Halloween is the worst thing you can do and may lead to a binge.  Taking a "dose" of candy each day the week before Halloween is like a vaccination. A 2008 study in the journal of Appetite found that giving participants 10 doses of chocolate (one each day) reduced cravings in comparison to a control group who didn't.  So, having your daily dose will help to expose you to the chocolate so the entire bowl is not as enticing.
Eat chocolate sitting down.  A recent study in the Journal of Health Psychology found that people eat 5-times more chocolate when they stand and eat.  Standing is distracting and inhibits your ability to truly think through food decisions.
Switch it up.  You often are thinking about the next piece of candy before finishing the one you have. To slow down and enjoy each piece of candy as you are eating it, eat with your non-dominate hand (if you are left handed, eat with your right). This will help prevent you from mindlessly popping candy into your mouth. Research indicates that this simple swap can cut down on how much you eat by approximately 30 percent.
Halloween fairy. The "candy fairy" or the "switch witch" can appear at night after every holiday, takes all the candy, and leaves coins. The candy gets chucked mercilessly in the trash or re-gifted. Research shows that kids are just as happy to receive pencils, erasers, stickers,etc. Also, kids are savvier than you think. Many are wise to the fact that they can't (and shouldn't!) eat the whole bag.  Or, give an option.  Also, consider joining the Teal Pumpkin movement, which provides safer treats for kids that have food allergies or provides a non-food option.
Pumpkin seeds.  Don't chuck the pumpkin.  If you're super-stressed and anxious you're going to stress eat! Here is a great Halloween tip to lower your stress and sugar cravings: Enjoy some spicy, roasted pumpkin seeds. They are high inzincand tryptophan so they'll raise serotonin, your happy and calming brain chemical. Best of all, the munching motion helps to satisfy one's oral fixation.
Tahini.   Have tahini or coconut oil with any Halloween candy. It helps to reduce the sugar buzz while maintaining the fatty richness of the chocolate.It has 20% complete protein, making it a higher protein source than most nuts. Essentially, it is a decadent buffer to sugar shock to the system.
Sprinkle. A recent study found that adding cinnamon can make dark chocolate taste fruitier in nature.  This gives you the benefits of dark chocolate with a great taste. Or, sprinkle a little sea salt.  Salt enhances flavor and is scientifically shown to cut the bitterness.  For the ultimate dessert, melt fondue style some small candy bars and dip in slices of pineapple and sprinkle with sea salt and cinnamon. The perfect treat for your taste buds that is satisfying without going overboard.
Set a time limit.  In life, we respond well to deadlines.  Set a timeline for when the leftover candy should leave your house.  On that date, either re-gift it or throw it anyway.
At the office.  Make it a safe zone creating an office policy discouraging the office from becoming a dumping ground for left over candy.  Have a protein packed chili pot luck lunch the day after Halloween—bulking up on protein will help prevent sugar cravings.  If candy does arrive at your office, be sure to put it out of site.  Follow the motto—out of sight, out of mind.
Susan Albers, Psy.D., is a New York Times bestselling author and a clinical psychologist at the Cleveland Clinic who specializes in eating issues, weight loss, body image concerns and mindfulness. After obtaining a masters and doctorate degree from the University of Denver, Dr. Albers completed an APA internship at the University of Notre Dame in South Bend, Indiana and a post-doctoral fellowship at Stanford University in California. Dr. Albers conducts mindful eating workshops across the country. Dr. Albers is the author of six mindful eating books including: EatQ, 50 Ways to Soothe Yourself Without Food, Eating Mindfully, Eat, Drink, and Be Mindful and Mindful Eating 101.