It's cold out. Maybe it's snowing where you are. But even in Hawaii where we live, it's cold and rainy so we're spending more time indoors. It's hard sometimes to keep them busy. Here are a few ideas that have kept my boys entertained, at least for a little while.
Rainy Day Band
What's there to do on a rainy day? Well make your own band of course. All you'll need is a few things around the house.
What You'll Need:
plastic containers, spoon and rubber bands.
What to Do:
Take a rubber band and stretch it around the middle of one container.

Do this with different containers of different sizes.

Pinch the rubber bands with your two fingers and let go. Different containers will make different sounds.

Take another container and hit it with a spoon to make drum sounds.

Invite a friend to play in your Rainy Day Band!
Water Color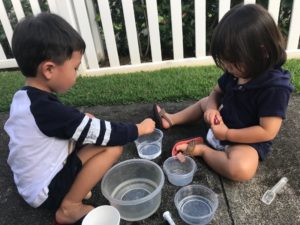 Take those same containers and fill it with water. Get food coloring, cups, brushes, even cleaned plastic medicine syringes. Let your kids experiment with color and have fun!