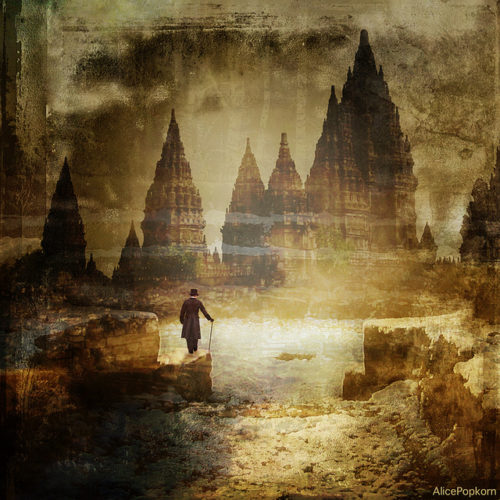 You feel stuck and trapped in the situation you're in. It could be a dead-end job or a unhealthy relationship. For me, it was working at a place I didn't belong. I like you wanted out, but in the meantime I didn't want to suffer in misery.
It can be demoralizing to feel like a victim. Thankfully, I learned that even when you feel out of control, there are things you can move to a more inspiring place.
Create something. 
Help someone else. Doing something for others is a great distraction that puts your problems in perspective and instantly improves your mood. Little Loving Hands is a subscription box that I first heard about from Momastery and did my first box with my son since last year. It allows you to create crafts that go to a specific organization in need. This year, for example, my son and I will be making a treat box and toy for a dog at a shelter.
Make a plan of exit. Give yourself a deadline, and focus on what steps you need to take. That way, when you're ready to leave you'll have everything in place.
Read biographies about people who achieved despite obstacles.
Spend at least one minute a day visualizing yourself in your happy place.
Use your five senses to change your experience. Smell an essential oil, or scented candle. Mindfully sip your tea. Feel the wind or warm blankets enveloping you. Listen to soothing music. Watch a sunset.
Read an inspiring self-help book that will change the way you think. Anything that has magic in its title is a good start. (e.g. The Magic of Thinking Big, and Big Magic)
Be a quitter. If you're like me there is a leaning tower of books on your nightstand all vying for your attention. You've got more shows to watch recorded than is possible to see in a week let alone a month. There are free audio recordings and podcasts you've been meaning to see. Instead of listening and doing all of them, I dare you to eliminate the need to start or finish something.
Go on a vacation. If you can't afford to go somewhere luxurious, do an overnighter at a friends. Having a change of scenery might give you clarity on what steps to make next.
Pray and or meditate. When I'm stuck, I do a lot of praying and meditating. Sometimes it involves asking for help. Sometimes it involves a lot of lying down and resting. It allows my mind to rest, reminds me to be patience and helps me to practice surrender.

Ask for help. 

In addition to praying for help, you might want to enlist friends, family and even the support of a coach or therapist to get you through this stage. Keep reading to find out how I can support you on your journey.
It's not easy being in this season of stuckness. But I promise it's only a season. If you're grappling with what you should do next, I can help. As a graduate in counseling and health psychology, an associate editor for psych central and a stress management teacher, I've worked with and helped many people build bridges to overcome their fears. I can help you through in-person and on the phone coaching and consulting. I also can help your students, employees and staff to deal with stress. Please email me at bauyemura@gmail.com for more information.