A Life Changing Tool You Can Enact Right Now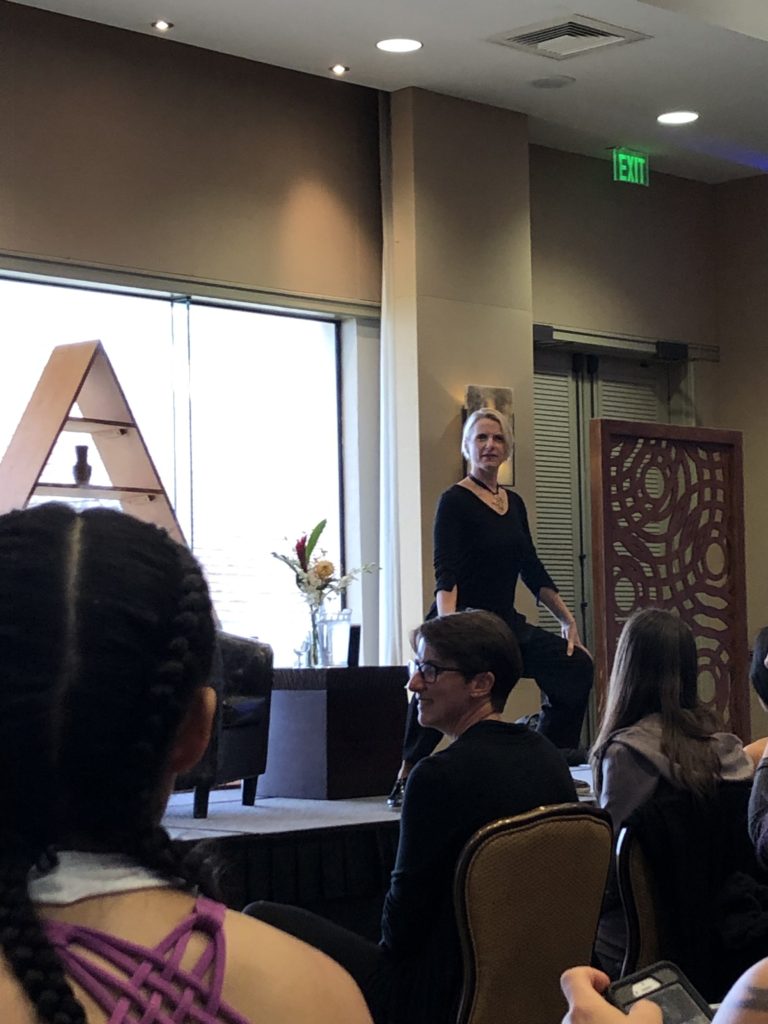 If you missed my post on Instagram, you didn't see my awkward pic of Elizabeth Gilbert or read I attended the Wanderlust festival this year. If you're curious to know what Wanderlust on Oahu is like, I wrote about my first experience in an essay here. I also wrote about this year's festival and the small piece of advice Gilbert gave to writers.
Anyway, I wasn't expecting the half day workshop to be as emotional as it was. To start, "Big Magic Creativity Workshop," was a little misleading, in a good way. I imagined we'd be sitting in groups painting and writing. While the around 250 of us did pair up, there was no creative activities involved saved for journal exercises. In fact, there was hardly even mention of the word.
The part of creativity I think Gilbert was tackling was the root of what disables us when we try to be creative-the emotional aspects of living a creative life. Specifically she had us address fear, permission, enchantment, divinity, and persistence. In fact, she had us personify each and imagine sitting at a large wooden table and having a conversation with them.
If all of this makes you feel woozy, you are not alone. I along with a few other attendants were afraid to return to the second half of the session. And it gets worse.
We wrote letters to each and then had to read it aloud to the stranger sitting next to us.
My partner happened to be a television director with similar issues as I and worried I would judge his letter. But he had no problem judging mines. "You know you're crazy right? Like to say that, you have to be crazy."
Talk about courage. Maybe it was all part of Gilbert's intention to not just lecture about how you need to be brave to be creative, but to have us practice it right there.
I can tell you that the workshop wasn't what I expected, but that it was way more powerful than I imagined it to be. I needed a tissue in the first five minutes and throughout the rest of the day.
There were letters to permission, for example, that had one woman declaring permission to leave her "loveless marriage," or another to buy a dog without telling her landlord. Writing a permission slip for all the things we always wanted to do or no longer want to do felt liberating.
Gilbert said for her it was Christmas cards, which she will no longer waste any time doing.
It also made me curious about how many of us are blocking our own happiness. We're stuck in a loop of how we're supposed to do things because that's how it's always been done.
Is there anything you're doing that you're doing routinely, but can't stand doing?
What would you rather do instead?
If you want a free and easy way to trigger change, try it. Write a letter to yourself about all the things you have permission to do and not do any longer. Write about how you don't have to make dinner every night or write thank you cards or stay in a job or relationship or place that's hurting your soul. Give yourself permission to try that new class, to sleep in, to cry, to be angry, to say how you really feel instead of burying your truth. And when you've gotten in all written out, I want you to write this in big BOLD letters:
PERMISSION GRANTED!