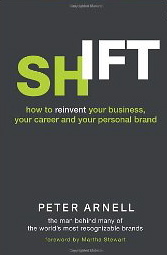 This brand, spankin' new book, published in 2010, was something I hadn't heard of and written by Peter Arnell, an author I wasn't aware of either. But the title, *Shift: How to Reinvent Your Business, Your Career, and Your Personal Brand

sounded enticing especially when names like Martha Stewart, Donna Karan and Gwyneth Paltrow backed it up.
So I gave it a try and guess what?
I wasn't disappointed and I don't think you'll be either.
But first, here's the cons:
While you can't judge a book by its cover, I don't think you should judge a book by its first few pages either. If I had Shift and I would have said, "Sayonara" a long time ago.
The first handful of pages threw me for a loop. I was thinking this book would be a how-to about marketing, business and branding by a super successful design and brand expert in the field. Yet, it started with a story about how Peter Arnell lost 256 pounds from eating oranges. I had to reread the cover to make sure I was reading the right book. But get past it fast and then open your eyes to the potential that this book has to make not just your business better but your life and you'll get shifted too.
What was less appealing was Arnell's descriptions of his past successes, which sometimes leaned towards boasting. But then again, this guy's got lots to boast about.
Also, this book won't be for you if you're looking for a step by step instructional guide on specific ways to reinvent your business. But thank gosh and lucky for me that it didn't. Which brings me to the real goodies (the pros).
How Shift shifted me:
Maybe you're not going to leave this book with practical steps on making your business better, but you'll leave it inspired. And that's certainly the #1 priority ofthis blogger.
Arnell takes a higher approach (what he calls helium) to defining business. It's not about being successful at what you do or making a lot of money doing so, it's about making a difference in the world and inspiring others, by first applying the values and principles you have for your business to yourself.
Shift works best in Arnell's stories he's learned about life from people you wouldn't expect (Chris Rock, Martha Stewart, etc.). Although he does throw names around a bit, they all have a purpose. And you'll start changing the way you see things too by learning how to embrace who you are, accept your mistakes, invite others on your personal journey towards success, ask for what you need and be courageous and bold enough to stand out from the crowd.
You might not get a direct formula for success. But if you're looking for a book that will motivate you to climb higher in life, not just your pocketbook, then this is the book that will change not only your business, but your life.
*Just in case you didn't know, as an Amazon Associates member, by purchasing a book through this link will put a few pennies in my pocket. As an avid reader and serious book lover, I would only recommend books I really love and always write honest reviews. If you're a publisher and want me to review your book, you can contact me here!