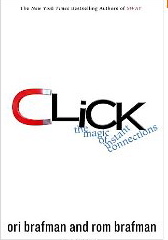 A few months ago, I had one of those rare serendipitous moments. An exciting gift landed in my email box. An opportunity to review coauthors Rom Brafman, Ph.D. and his brother Ori Brafman's brand new book Click: The Magic of Instant Connections
. Yes. This lil' blogger was very excited. You may have remembered this talented duo in a past post I wrote about their other page turning book Sway: The Irresistible Pull of Irrational Behavior.
Well I don't know how they found me, chalk up to the powers that be, but they did. And I received my own free copy of the brand new book in my mail a little while later.
So I guess the question is, "Did Click click with me?"

Yep. The Brafman's did it again. They combine gripping, relevant research with personal stories to explain what happens when people connect. Let's just say sparks fly and magic really happens.
Do you remember the first time you fell in love? That up all night conversation about nothing? Or how about that time you met a stranger and felt like you knew them your whole life? There was a flow and an instant connection. Well sometimes that connection with another person has lasting affects.
Here's an interesting factoid on the subject. In a research study, romantic couples who had clicked with their spouses "were significantly more likely to exhibit a higher level of passion in their relationships, even after marriage, kids, and the mortgage."
Amen and hallelujah to that! I have a reason to file away my husband and I's silly behavior now and when we first met, as real proof we're meant to be together.
But this book isn't just about romance. It's about all of the magic that happens when any two or more people click. And it describes five ways to make it happen: proximity, vulnerability, resonance, similarity, and a safe place.
Again my head nodded up and down in validation. Proximity as in how physically close you are to someone increases your chances of clicking with them. This explains one of the reasons why my classmate and I were so close. We had the same last name and our first initials were one letter apart. This meant we were always seated next to each other in class. Thus, there were lots of opportunities to talk, pass notes to one another and work on class projects together.
Well all of this new info was pretty fascinating to me, but I have to admit-I dislike books that are all talk and no action.
So here's where Click impressed me the most.
If you're not a natural clicker (go here to take the quiz), then don't sweat it. The Brafmans give you ample tips on how to create the conditions for click to occur. This is great news for us introverts because being able to connect with others is not just important in our love lives, but it's super helpful in our careers as well. I'm thinking those that can schmooze with the best of them don't need any help in the networking department, for example.
The takeaway?
Click is another fast, relevant and thrilling read about connection and relationships. It's not just fascinating, but applicable too especially in this digital age where real life, in person connection is too few and far between.