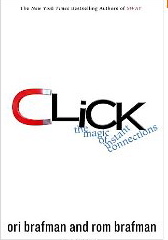 A few months ago, I had one of those rare serendipitous moments. An exciting gift landed in my email box. An opportunity to review coauthors Rom Brafman, Ph.D. and his brother Ori Brafman's brand new book Click: The Magic of Instant Connections
. Yes. This lil' blogger was very excited. You may have remembered this talented duo in a past post I wrote about their other page turning book Sway: The Irresistible Pull of Irrational Behavior.
Well I don't know how they found me, chalk up to the powers that be, but they did. And I received my own free copy of the brand new book in my mail a little while later.
So I guess the question is, "Did Click click with me?"