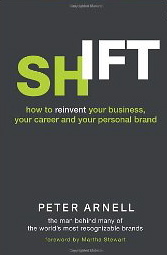 This brand, spankin' new book, published in 2010, was something I hadn't heard of and written by Peter Arnell, an author I wasn't aware of either. But the title, *Shift: How to Reinvent Your Business, Your Career, and Your Personal Brand

sounded enticing especially when names like Martha Stewart, Donna Karan and Gwyneth Paltrow backed it up.
So I gave it a try and guess what?
I wasn't disappointed and I don't think you'll be either.
But first, here's the cons:
While you can't judge a book by its cover, I don't think you should judge a book by its first few pages either. If I had Shift and I would have said, "Sayonara" a long time ago. read more »