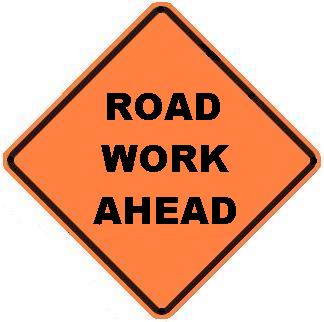 The other day, I took a walk and noticed a big sign that read, "Road Work Ahead." Then I thought, what a great representation of life.  Right when you think you've got life figured out, some obstacle, a roadblock, challenges you to rethink your life and you're stuck asking yourself that age old question, "Why me?"  
Life IS about change after all and though we sometimes want to avoid it, there will always be more roads to build, more paths to heal, and more decisions to be made.  The great thing is that the choice is always in our hands.  Do we, for example, when faced with an obstacle turn around and run the other way, keep trekking on, or take a break and reflect on where we'll go next?  
Regardless of how we respond, the great thing about signs is that it reminds us that life can be as magical as it was when we were kids.  The magic lies in the small, seemingly insignificant events filled with miracles and signs of hope that'll lead you to the real gold at the end of the rainbow, your dreams.  The key is to open our eyes and hearts to possibility and be fully present in every day moments like these and have the courage to take a deep breath and plow ahead.