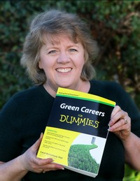 Well the day is finally here! I've been holding in my excitement for months now waiting until the day when I could feature this successful dreamer. After reading her 1998 book,"Seasons of Change : Using Nature's Wisdom to Grow Through Life's Inevitable Ups and Downs" I knew I had to feature her. Author of four books including her latest book, "Green Careers For Dummies
, founder and executive director of her green career site, "Green Career Central, Carol McClelland, PhD, is a true inspiration
! I'm happy to welcome her to 2inspired and am excited that she's here. Read her story on what it took to get her to live the life of her dreams, green dreams that is, in the field of green careers.
Since 1991 I've worked with professionals in the midst of career transitions. My passion is helping mid-career professionals identify the work they love that matches their values and their lifestyle needs. Over time my work has taken different forms from one-on-one consulting, teaching career self-assessment courses at the local university, facilitating workshops and retreats, training other professionals to use my career programs with their own clients, and writing books, but the purpose of my work has always remained the same.
In 2007 I attended a book marketing conference in Los Angeles with a colleague. I was searching, trying to figure out my next step. Throughout the conference two themes caught my attention.
Don't wait to make a difference – do it now!

– I've always known I wanted to contribute more to the environment in some way. I'd been waiting to act on this passion until…until when?

Focus on ONE thing

– Throughout my business I've always been torn between two topics – the career transition work I described above and helping people through major life transitions using nature and the seasons as the guiding metaphor. Finding the right balance and priorities for these two themes has been a constant source of confusion for me.
As I was trying to choose which ONE thing to focus on – my career work or my work with nature – I was torn. I didn't want to give up either one. I don't mind admitting it; I felt anxious, frustrated, and confused.
As the conference drew to an end, my colleague and I took some time to reflect on what we wanted to take away from the conference. I was describing my dilemma of choosing one of my passions over the other. Her first question was, what if you helped professionals find green careers?
I felt an immediate shock of recognition. It was as if all of my business choices and decisions over the years had prepared me for this next step in my business. This direction allowed me to focus on ONE target market while weaving my two passions together in a unique way. In addition the business would allow me to contribute to the state of the environment in a significant way.
Driving home to the Bay Area from Los Angeles gave me plenty of time to consider my new direction. Ideas were popping open like popcorn! Now, three years later, I'm still implementing ideas that came to me during that brainstorming session.
As I reflected on my decision to refocus my business on helping professionals find green careers, I was struck by how consistently "green" topics showed up throughout my life history: from the toys and books I loved as a child, to my favorite memories of family road trips to National Parts, to school projects I chose to work on. Later in life my passions, volunteer activities, and most poignant moments all relate to nature and the environment in some way.
I'm thrilled to be helping people discover their own passions and how they can use their passions and talents within the green economy.
Thanks SO much Carol! For more information on green jobs, you can visit Carol's site Green Career Central. And if you've got any questions for Carol about green jobs and her book, Green Careers For Dummies
, feel free to leave them here. She kindly offered to check in throughout the day to comment and answer questions. Plus, those who leave a comment, tweet or share the story on Facebook today will get an entry to win Carol's book. The winner will be announced on Monday. Good luck!