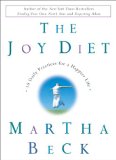 A joyful diet sounds like an oxymoron doesn't it? But as spring approaches, I'm dieting to find out.
First of all, I have to say I'm not a dieting girl. Every time I attempt to go on a diet, it lasts all of 6 hours and then I'm spent. I think the problem is that most diets are all about deprivation. And frankly, I don't have the time and energy for that.
But JOY?! That I could get into. Especially since the person who wrote it is one of my favorite authors: life coach, O magazine contributor and best-selling author Ms. Martha Beck.
After reading two of her books, I was craving more. More importantly joy is actually something I wouldn't mind going on a diet for.
So here's the deal:
There's 10 tips for Martha Beck's Joy Diet. I'm going to try it, one a week for the next 10 weeks and see if it brings me more joy.
Are you in?
You can follow along here or get your own book (The Joy Diet: 10 Daily Practices for a Happier Life
) and try it with me.
*Haven't forgot about my BIG surprise yet? Have you? Well stick around because I'm unveiling the green treat this Wednesday, March 17th.