I'm a big fan of Twitter for obvious reasons. I've got almost 400 kick-butt followers from editors and web designers to small business owners to freelance writers. And I even have a handful of my all-time favorite peeps. (Like Ms. Martha Beck who I'm still blushing in disbelief from her words of humor/wisdom in our recent twitter chats.)
The one thing that I haven't really enjoyed, however, is the number of tweets and articles out there that tell you what you're doing wrong. Their provocative, grab you pieces might gain tons more attention that this humble blog does, but I can't help wonder how helpful they really are.
Maybe in the big scheme of things knowing that I should, for example, have my name as a Twitter handle instead of the name of my blog, is a good thing. It's also good to know that I shouldn't be a freelancer if I don't like sitting at my desk or working alone or doing paperwork or working as a business, etc. But what I see less in the Twitter realm is what we're doing right.
Why are there so many negative articles and posts out there? Can knowing what we're doing wrong be more helpful than focusing on what we're doing right?
Maybe having someone bark orders at some is necessary. Maybe we need the knowledge to come straight and clear for us to get it. But for some, I think a little bit of encouragement would be better.
If you're on the road to following your passion, would you want someone to berate you for what you're doing wrong or support you and focus on what you're doing right?
Maybe it's a preference thing. But for me, on this journey to freelance freedom, I'd much rather read this.
A top 5 list of what you're doing right, right now:
If you're reading this, you're on your way to an inspiring life. Just taking small steps ends up affecting your life in a big way.
You've taken risks. Yesterday, I made a big announcement on Twitter that my dream jobs were as a magazine columnist and a book author. I cringed as I clicked on send. But I did it. It was my way of proclaiming my dream. I took a risk and survived it. Congratulate yourself for even the some bits of discomfort you face!
You're doing the best you can. Life isn't about perfection it's about giving everything you can. Even if you're sitting in a cubicle dreaming of your dream job, you're doing what you can with what you have. Not everyone can quit a job they hate right away and that's okay. Accepting your situation and who you are in the moment may be what you need to get through this moment to the moment of your dreams.
You've already come so far. I think it takes a lot to get to a point where you can feel safe and comfortable enough to dream. Even a year ago, I never thought I could write for a living and although I'm still far from my goals, I'm closer than I've ever been before. Try to remember where you came from and celebrate your small victories every step of the way. You deserve it!
You've kept going. Perseverance is a big thing in life. While others give up with the going gets tough, you've stuck through. And aren't you glad you did? Even if all you've ever done is to hold onto that dream. You've done more than enough. When the time is right, you'll have the courage and energy to go for it all! And when you do, let me know. We'll celebrate that victory together!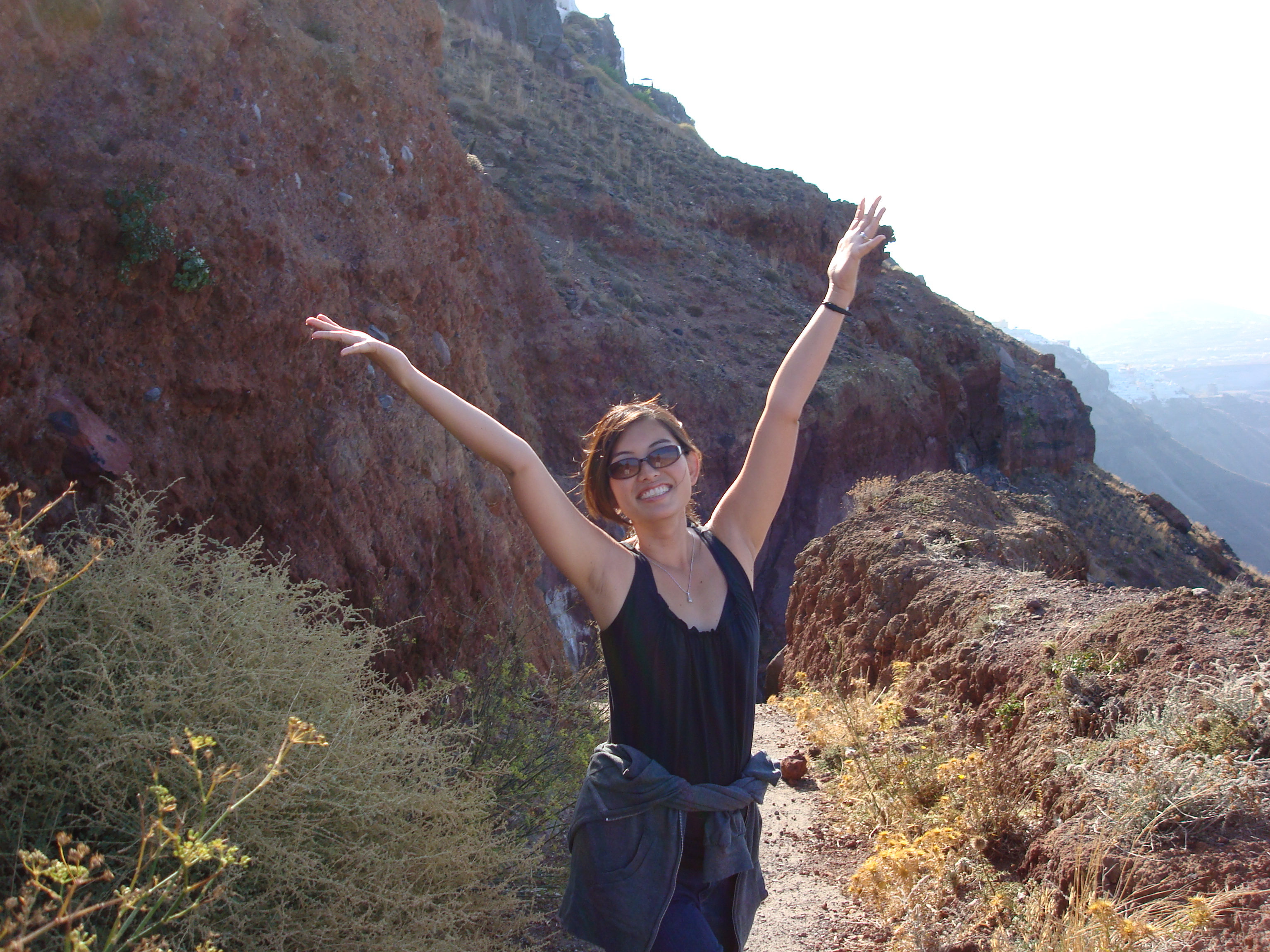 A few words about this photo: I have extraordinarily long arms and no I'm not selling an ad for deodorant. I just finished a monstrous of a hike in Santorini and as you can see I was pretty excited.