Not many people realize it. But inspiration takes work. If you're feeling uninspired, read these top 10 ways you can lift your spirit, nourish your soul and dig into what really matters. You may find it's surprisingly easy to get your inspiration on. Jump in and be inspired!
1) Move your nose.
One way to get inspired is to tickle your senses. Smell is a powerful memory keeper and maker. A whiff of suntan lotion can take me back to the beach while the smell of plumerias returns me to my youth.
Try it: Visit a tea shop and breathe in the various subtle scents. Linger at a perfume counter. Revisit an old relationship through a past fragrance. Before you eat a meal, close your eyes and inhale deeply.
2) Move your toes.
Thank you Jack Johnson and Colbie Caillat for bringing attention to this often neglected part of our bodies. Toes are fun, playful, and can inspire us if we let it.
Try it: Wiggle out of your shoes for once and walk barefoot at home or outdoors. Feel the dirt or sand in between them. Get a pedicure to celebrate them.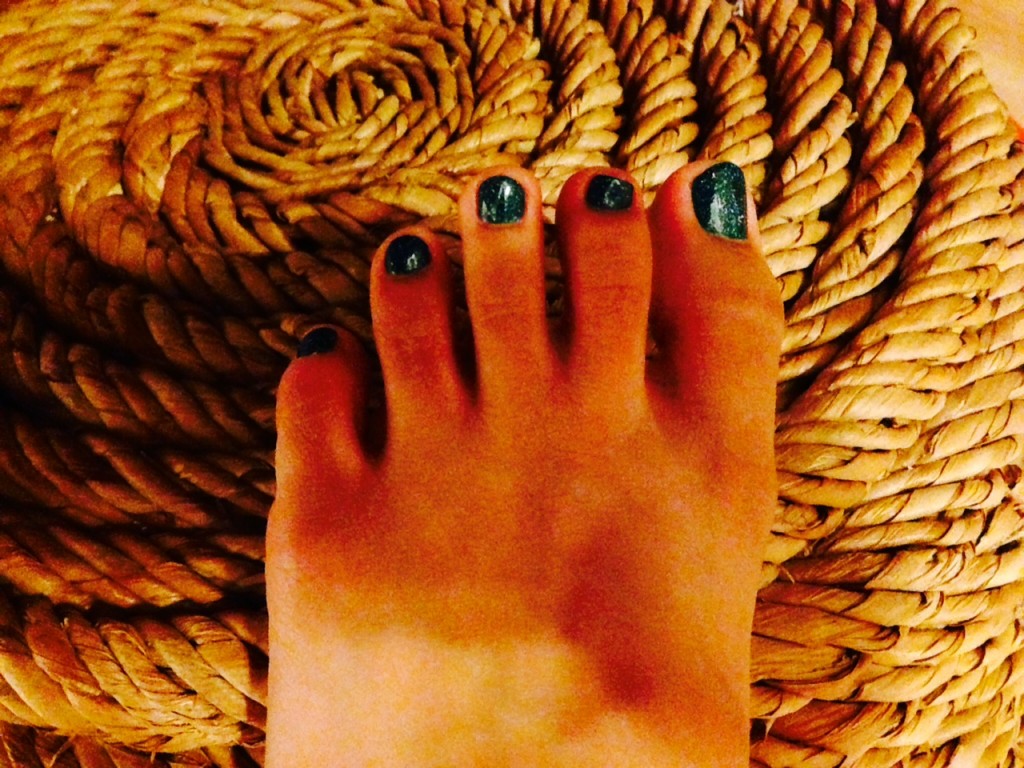 *UpDate – Yes my foot looks like a hand. It's pretty freaky actually! But try not to think about that. I really wanted to show you my bold new blue nail polish. I had fun with this one and for a good cause too. The Hoala spa at Ala Moana did a spa-a-thon tonight and participated in the cut-a-thon a few weeks ago. All the proceeds to these pampering services went to the local chapter of the Surfrider Foundation, which helps improve water quality on the island of Oahu.
3) Move your ears.
We take our hearing for granted. Traffic, ear buds, the news, all can desensitize us to the beauty of sound.
Try it: Go on a sound fast. Shut off your television and computer. Turn off your smart phone. Leave your e-reader on your nightstand. The best thing I ever did for myself was go on a silent retreat. It was so quiet, the frogs outside appeared to be croaking in stereo sound. If you can't go away on a formal retreat, create a silent weekend, day, hour or even a moment to let your ears fast.
4) Move your mind.
Puzzles have been shown to prevent memory loss. But if it's not your thing, don't do it. There are other ways to sharpen the mind and welcome inspiration.
Try it: Take that class that you've always wanted to try. Be bold. Be courageous! Remember what it was like to be a babe when everything was new. Do something that would make your friend look at you in awe and say, "You! You did that?!"
5) Move your body.
Dance, play, build, create. Do something that involves your entire body. Shake off what's bothering you. Loosen what's tight.
Try it: Get a massage. Take a dance class. Do tai chi at home. Try yoga. The more ridiculous you feel, the better. You're not trying to win an award. You're trying to release the fears attached to making a fool of yourself. You're trying to let openness in. Move your body and you will create more flow and zeal in your life.