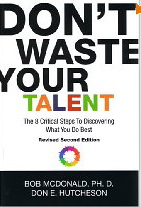 Several months ago, I received a book from Highlands Company, a publisher who created Don't Waste Your Talent. I'm happy to say my husband and I FINALLY finished the book, and it was well worth the wait. Here are my list of pros and cons of Don't Waste Your Talent: The 8 Critical Steps to Discovering What You Do Best. You might want to add it to your library of inspirational reads!
Summary: Bob McDonald and Don E. Hutcheson created a book perfect for the career seeker. If you feel like you are going through a mid-life, quarter-life crisis, or just feel like you need a change, Don't Waste Your Talent can help you delve deep into what may be missing in your life. Their stance is that most people in society are in a fog, living the life they think they are supposed to be living versus their authentic life. They call it this the Lemming Conspiracy: based on artic animals who jump off a cliff (literally) together without knowing why they do so. People buy into systems like career and family and spend most of their lives working weekends and weeknights to get promoted and make money but feel empty because it is not aligned with their true purpose. The book is based on McDonald and Hutcheson's program for corporations and there are samples in the book from those who went through this program.
Pros: This book may open your eyes to what is missing in your life. There are end of the chapter questions that called, "Thought Experiments," such as personality quizzes and those that make you analyze various turning points in your life (e.g. determining your major crisis at age 18 and how you dealt with it).
I think the jewel of this book was its thought provoking questions. Questions that make you dig deep into your psyche and that require you to research your family background to discover where you came from. It wakes you up from mindless work and living unconsciously to realizing that there is hope and possibility in every situation no matter how hopeless it may seem.
One of my favorite parts of the book was the guided imagery section. What surprised me was the fact that it was a research based book and was very left-brained oriented, yet creativity was also mentioned as important in determining your "personal vision". Through one of the exercises I discovered that peace, solitude and creativity were important to me. And in another, one which asked us to envision our lives as a millionaire, I learned that money did not equal happiness. But that learning to be at peace with myself and loving others were the most important aspects of my life.
It also gave great insight into what your values are and how much time and energy you focus on them on a day to day basis. I also thought spending the time to talk to family members about their career history could potentially be helpful to you not only professionally but personally as well.
Cons: One thing my husband didn't like was that he felt the authors pushed their company and services too much. That and the fact that there were visible spelling errors and weird spaces between words kind of bugged me too. Aside from minor errors and subtle signs of sales-y talk, the one thing that was disappointing was that at the end of the book, my husband and I didn't change too much. To be fair, we also didn't do all of the exercises. I do think to get the most out of the book one needs to devote time to the exercises.
What's my overall opinion?
I'd say buy the book. But don't expect it to change your life in an instant. If you're looking for a resource to help you discover different parts of yourself and to find out more about who you are and bits and pieces of who you want to be, then give it a try. My husband and I both got valuable insight into our authentic selves.
So my final words: Don't Waste Your Talent? You won't waste your time reading it!